Rio Tinto Accused of $700 Million Tax Dodge on Mongolian Mine
---
Rio Tinto Group has been accused by a Dutch non-profit group of avoiding about $700 million in taxes related to its Oyu Tolgoi copper mine in Mongolia. The company denied the allegations.
Rio and its Canadian subsidiary Turquoise Hill Resources Ltd. used so-called mailbox companies in Luxembourg and the Netherlands to fund the development of the mine in Mongolia, the Centre for Research on Multinational Corporations said in a report Wednesday. The company avoided $470 million in Canadian taxes through the vehicles and $230 million in Mongolian taxes, the group known as SOMO said.
"The flawed SOMO report contains a number of unsubstantiated and incorrect allegations regarding tax," London-based Rio said in an emailed statement. Oyu Tolgoi "is one of Mongolia's largest taxpayers and is paying its fair share of tax," having paid more than $1.8 billion in taxes and royalties between 2010 and 2017, the company said.
The SOMO report comes at a time when tax avoidance measures have become a political flashpoint, especially for the world's biggest tech companies. Structures with names with like "Double Irish" and "Dutch Sandwich" have been used by companies to shield the majority of their international profits from taxation.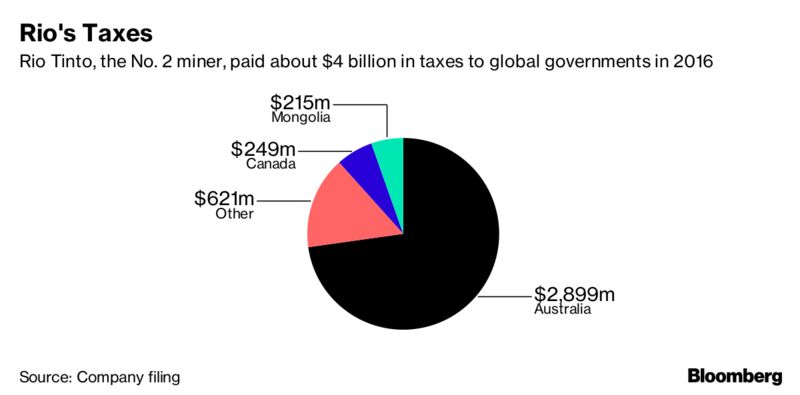 Rio, the world's second-biggest miner, is already having some difficulties in Mongolia, with local politicians claiming that the country has not benefited enough from the development. Chief Executive Officer Jean-Sebastien Jacques last week flew to Mongolia for talks with the country's prime minister aimed at smoothing ties and lowering the cost of Oyu Tolgoi's expansion.
The massive Oyu Tolgoi copper-and-gold mine was discovered in Mongolia's Gobi Desert in 2001 and Rio gained control in 2012. Oyu Tolgoi is jointly owned by the government of Mongolia, with 34 percent, and Turquoise Hill with 66 percent. Turquoise Hill is 51 percent owned by Rio. Oyu Tolgoi's "shareholding and funding structure was agreed in advance with the governments of Canada and Mongolia and the tax outcomes are in line with those in Australia, Canada, Chile and the U.S.," Rio said in the emailed statement.
Rio made total tax payments in Mongolia of $215 million in 2016, and a tax payments to governments globally of about $4 billion, the producer said in an April report.
By the scheduled start of an underground expansion at Oyu Tolgoi in 2020, shareholders will have invested about $12 billion in the project, while only Mongolia's government has received any return to date, Rio said in its statement.
SOMO is a non-profit group, funded by the Dutch government and EU, which investigates multinational corporations.
Source: Bloomberg
February 1, 2018